Posted by Talismen | September 11th, 2009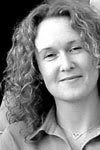 This is Sarah Prothero-Redheffer.
She was taken from this world, 8 years ago, on September 11th 2001.
This year, my forum board, All Sides Political Forums is participating in "Project 2,996", which is an annual online event, honoring those lost in the 9/11 attacks.
Link: http://project2996.wordpress.com/
Posted below is the tribute written for her.
Many Thanks,
Lisa (a.k.a. "Talismen" – site owner and admin)
********************
Just days after the 9/11 attacks, Rev. David Prothero said "I think for the moment we are living in hope that she will be one of those found and that she has been able to escape".
His 35 year old daughter Sarah Prothero-Redheffer, an executive with the London-based Risk Waters Group, was organizing a conference on the 106th floor of the North Tower, when American Airlines Flight 11 slammed into the building…Changing David Prothero's world, and ours, forever.
A tribute to Sarah, featured on the Risk Waters Group website (dedicated to employees lost on that day) said that Sarah was "a tornado of energy and enthusiasm when the rest of us would need to stop for air". We all seem to know folks like Sarah…Those who have endless amounts of energy and can rally for a cause, or be there when we need them most.
The tribute went on to say (in part):
Sarah led her life passionately because a quiet life simply wasn't an option. The faith and trust she placed in her team made us a unique force and we count ourselves so very fortunate to have met such a youthful and vibrant spirit. To say Sarah was a feisty character is an understatement.

Dedicated, professional and caring are just a few of the qualities that she brought to the workplace. Always on hand to give advice, Sarah could be relied upon to bring humour to any situation and had an enviable habit of turning difficult situations around.
On that fateful day and for weeks after, Sarah's friends and family waited for word, hoping and praying that Sarah would not only survive, but would soon return to calm their anxious hearts and fill their outstretched arms.
They were hurting…Just as we all were hurting…And continue to hurt…From the horrible losses suffered that day.
It's easy to envision that Sarah (with her "feisty character") may have been one of the angels who helped to calm the injured, look for a way out, or merely pray to God for their safety. A few of her friends and loved ones have left comments on a memorial site for her, some of which give clues to the kind of love and compassion Sarah gave to the world, and how the world suffers a great loss without her energy and spirit:
(snips)
"Sarah, still regret not being able to meet up with u in Sydney the month before the NY event……….
Our brief time as colleagues and partners back in London remains well up on my 'good times' list buddy, wherever u r I am sure u r making people smile and keeping them on track.
x "
"Sarah and I were at University together and she was a good friend, though I hadn't seen her for a few years. I heard the news only today March 2004 from another University friend. She was one of life's naturally positive people, full of buzz and energy, playful and mischevious and above all a wonderful person with a heart of gold. On hearing this awful news, a little bit of me died too. My deepest sympathies are with her husband and family."
It is said that everyone is loved by someone….And, well…It's clear to see that Sarah was loved by many.
And she is missed by many, to this very day.
Her life was spent taking care of what needed to be taken care of.
People could count on her, and she did not let them down.
That was Sarah.
And on this 8th anniversary of her untimely death, those of us left to mourn her and the event itself, should consider it our mission to follow Sarah's good example, and 'take care of what needs to be taken care of', forever honoring the memory of all those lost, all those who mourn, and all those brave souls who helped to bring comfort and closure to folks like Sarah's parents, her husband, and the rest of her family and friends.
We must never forget Sarah….Nor any one of them.
Thank you Sarah.
Your loving spirit still moves people to this very day.